A new study from the Secretariat of the Convention on Biological Diversity has synthesized over 300 reports on ocean acidification caused by climate change. The report finds that increasing ocean acidification in the oceans will lead to irreversible damage in the world's oceans, creating a less biodiverse marine environment. Released today the report determines that the threat to marine life by ocean acidification must be considered by policymakers at the UN Climate Change Conference in Copenhagen.
The world's oceans naturally store carbon, however due to increasing carbon emissions from mankind the ocean has been sequestering carbon at a higher rate than usual has actually changed the chemistry of the ocean, making it more acidic.
"Ocean acidification is irreversible on timescales of at least tens of thousands of years, and substantial damage to ocean ecosystems can only be avoided by urgent and rapid reductions in global emissions of CO," explains Mr. Ahmed Djoghlaf, Executive Secretary of the Convention in a press release. "Attention must be given for integration of this critical issue at the global climate change debate in Copenhagen."
Among the most alarming conclusions is that by 2050 ocean acidity may increase up to 150 percent, an increase that would be 100 times faster than any change in acidity that the ocean has undergone over the past 20 million years. This rapid increase will give vulnerable species little time to adapt to changing chemical conditions in the sea.
| | |
| --- | --- |
| | Great Barrier Reef in Australia |
Coral reefs are especially sensitive to acidification which weakens their skeletal structure. According to the report by 2100, 70 percent of cold water corals will be exposed to high acidification levels. Coral reefs are one of the most biodiverse habitats for species in the oceans.
Species that produce shells and plates out of calcium carbonate are also at risk. Carbonate ion concentrations are currently at their lowest rate in nearly a million years. The report finds that by 2032, the Arctic Ocean will lack the necessary carbonate minerals for these species, which includes mussels, oysters, shrimps, crabs, lobsters, foraminifera, pteropods, and coccolithophores. The Southern Ocean will experience similar changes by 2050.
Some species are likely to benefit from the increasing acidification of the oceans, however in all the oceans are likely to be less biodiverse and to lose many the species dependent on calcium carbonate.
"Far too many policy-makers at the 2009 UN Climate Change Conference in Copenhagen seem unaware that biological diversity not only underpins and is at the heart of global sustainable development, it is also being threatened gravely by climate change. Understanding the role of biodiversity in attaining our common goal of sustainability is therefore not only critical, but urgent," preeminent biologist Thomas Lovejoy writes in the report's introduction.
Scientific Synthesis of the Impacts of Ocean Acidification on Marine Biological Diversity [PDF]
Related articles
Oceans' ability to sequester carbon diminishing
(11/18/2009) A new study—the first of its kind—has completed an annual accounting of the oceans' intake of carbon over the past 250 years, and the news is troubling. According to the study, published in Nature, the oceans' ability to sequester carbon is struggling to keep-up with mankind's ever-growing emissions. Since 2000 researchers estimate that while every year the oceans continue to sequester more anthropogenic carbon emission, the overall proportion of carbon taken in by the oceans is declining.
Coral reef troubles indicate broader ecological problems
(11/10/2009) Today, many of our planet's natural areas are seriously threatened by human incursion, overexploitation and global warming: Less than a fifth of the world's original forest cover remains in unfragmented tracts, while just one-third of coastal mangroves survive to protect coastlines from storms and erosion. But none of these are declining as rapidly as coral reefs. By revealing what could be in store for other natural systems, reefs resemble the proverbial canary in a coal mine.
Shells thinning due to ocean acidification
(03/13/2009) By soaking up excess CO2 from the atmosphere oceans are undergoing a rise in acidity which is having ramifications across their ecosystems, most frequently highlighted in the plight of coral reefs around the world. However, a new study in Nature Geoscience shows that the acidification is affecting another type of marine life. Foraminifera, a tiny amoeba-like entity numbering in the billions, have experienced a 30 to 35 percent drop in their shell-weight due to the high acidity of the oceans.
Nemo at risk from CO2 emissions? Ocean acidification may hurt baby fish
(02/02/2009) Increasing carbon dioxide concentrations in the atmosphere may have an unexpected impact on marine ecosystems: disorienting fish larvae. Research published in this week's issue of the Proceedings of the National Academy of Sciences (PNAS) found that ocean acidification disrupts the olfactory sense of clownfish larvae, making it difficult for the fish to find a habitat, which for clownfish is a sea anemone.
Fish may help fight ocean acidification
(01/19/2009) Fish are a major source of calcium carbonate production in marine ecosystems, a finding that has implications for ocean acidification, report scientists writing in the journal Science.
Ocean acidification is killing the Great Barrier Reef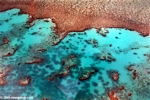 (01/01/2009) Since 1990 the growth of coral in Australia's Great Barrier Reef has slowed its lowest rate in at least 400 years as a result of warming waters and ocean acidification, report researchers writing in Science. The finding portends a bleak near-term future for the giant reef ecosystem as well as calcifying marine organisms around the world.
Climate change, ocean acidification may doom jumbo squid
(12/15/2008) Ocean acidification — driven by rising carbon dioxide levels in the atmosphere — may hurt the Humboldt squid, report researchers writing in the journal Proceedings of the National Academy of Sciences.
Climate change will transform the chemical-makeup of the ocean
(12/11/2008) By studying the ocean's past, scientists have discovered that climate change has a much larger affect on ocean chemistry than expected. The study, published in Science, reveals that 13 million years ago climate change significantly altered the chemical composition of the oceans. Such changes in the ocean's chemical makeup today could have a great impact on marine life, already stressed by overfishing and pollution.
Group may sue EPA under Clean Water Act to address ocean acidification
(11/14/2008) An environmental group plans to sue the U.S. Environmental Protection Agency for failing to uphold water standards in the face of ocean acidification.
Stopping ocean acidification would save billions of dollars in revenue
(11/12/2008) A new report from Oceana shows that action taken now to curb ocean acidification would not only preserve the world's coral reefs, but also save billions in lost revenue in the fishing and tourism industries.
Effects of ocean acidification will come 30 years earlier than expected
(11/11/2008) The Southern Ocean may be 30 years closer to a tipping point for ocean acidification than previously believed, putting sea life at risk, according to research published in this week's Proceedings of the National Academy of Science.
'Safe' CO2 level may destroy the fishing industry, wreck reefs
(09/23/2008) An atmospheric carbon dioxide concentration of 450 parts-per-million (ppm) — a target level deemed safe by the United Nations Framework Convention on Climate Change (UNFCCC) — would be devastating to marine ecosystems warn scientists writing in the journal Geophysical Research Letters.